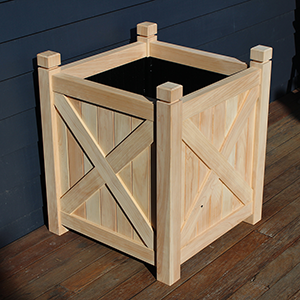 HAMPTON – New timeless planter handcrafted to the highest standards that PlanTub has built our reputation on over the last 20 years.  Hampton is a substantial product using large scale posts and frame suitable for commercial and residential use as per Hampton product specifications.
Handmade to order using only the highest quality materials.  High-grade Macrocarpa 'clears' are used meaning unsightly knots cannot be seen as may be seen when inferior materials are used such as pine.  And, Macrocarpa is naturally resistant to rot and insect damage making them last much longer than other mass produced alternatives.  Crafted here in New Zealand using traditional cabinetmaking techniques using mortise and tenon joints and pinned with stainless steel hardware, so no assembly or nasty rivets, bolts, or screws in sight. As with all PlanTub planters, the interior is coated with a food grade sealer meaning you can safely use to plant edibles as well as topiary, trees and shrubs.
Check out our new HAMPTON product page for more info including measurements and specification.