The BoxSeat is a practical, versatile and comfortable storage seat solution suitable for both outdoor and indoor use. All BoxSeats are individually hand crafted in New Zealand using professional construction techniques and the highest standards of cabinet making, and painted or stained to give a flawless finish.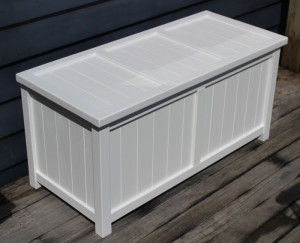 It's a multi-purpose storage box that doubles as a seat and can be used for a variety of storage purposes:
• Outdoor furniture cushions
• Outdoor footwear
• Poolside spa or sauna area storage needs
• Garden accessories
• Firewood
• Indoor bathroom storage for towels and sheets
• Bedroom linen storage
• Toy storage
Hand crafted perfection:
Every BoxSeat is handcrafted to order and is made to the highest standards using professional cabinet making techniques.

Sizes and proportions carefully designed to be:
• An extremely comfortable sitting height
• Very strong structurally
• Storage for a large amount of items
• Visually proportionate
Only the highest grades of personally selected macrocarpa timber, sourced directly from the sawmill are used. This ensures a strong, visually attractive finish.
Sustainable and practical timber
Macrocarpa is grown within New Zealand as an exotic tree. The timber is derived from either a forested plantation source, or farm shelterbelts. It's grown sustainably and has characteristics ideal for making outdoor storage furniture.
Part of the Cypress family, it's a fine grained wood that is durable, naturally repellent to water and also resistant to rotting and insects. It produces a very smooth finish and takes paint very well.
Sizes and Specifications:
• Medium: H 525mm x L 825mmx W 415mm, Volume 85 Litres
• Large: H 525mm x L 1100mm x W 500mm, Volume 150 Litres
• Extra Large: H 525mm x L 1500mm x W 500mm, Volume 210 Litres
Built to last
Professional mortise and tenon cabinet making joints secure all the frames to the corner posts. The interlocking sides consist of tongued and grooved panels glued into deep rebated channels in all the corner posts as well as the horizontal rails for maximum strength. Strong 18mm thick base boards are also tongued and grooved to create a rock solid interior suitable for storing a wide range of items. The inside is left unpainted so you receive a pleasant aroma of natural timber when you open the lid.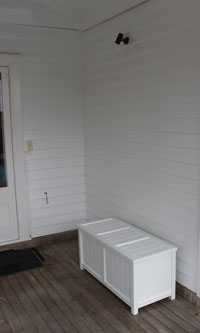 Where to use?
The BoxSeat can be used either inside or outside, (ideal for a covered deck).
Flawless finish
The BoxSeat is immaculately constructed, and the final finish to the timber is exceptionally smooth. The BoxSeat is available as a naturally stained finish or painted either 'Arctic White' or 'Baltic Black' – (see the PlanTubs on the website for colour references). Alternative colours can also be arranged by request as special orders.
Hard wearing low sheen outdoor water resistant paint is used so no harsh reflections in glaring sunshine.
The paneled lid is also constructed to very high cabinet making standards, with interlocking panels glued tightly into rebated channels on all edges and painted with waterproof paint inside and outside. Recesses make for a comfortable seat for up to 3 adults.
Top quality stainless steel hinges and screws are also used to secure the lid which opens upwards to more than 90 degrees.
Hand made to order
Each hand made BoxSeat usually takes between 4 and 6 weeks to complete from time of ordering.
The BoxSeat can be freighted anywhere in New Zealand or Worldwide so please contact us for a quote.